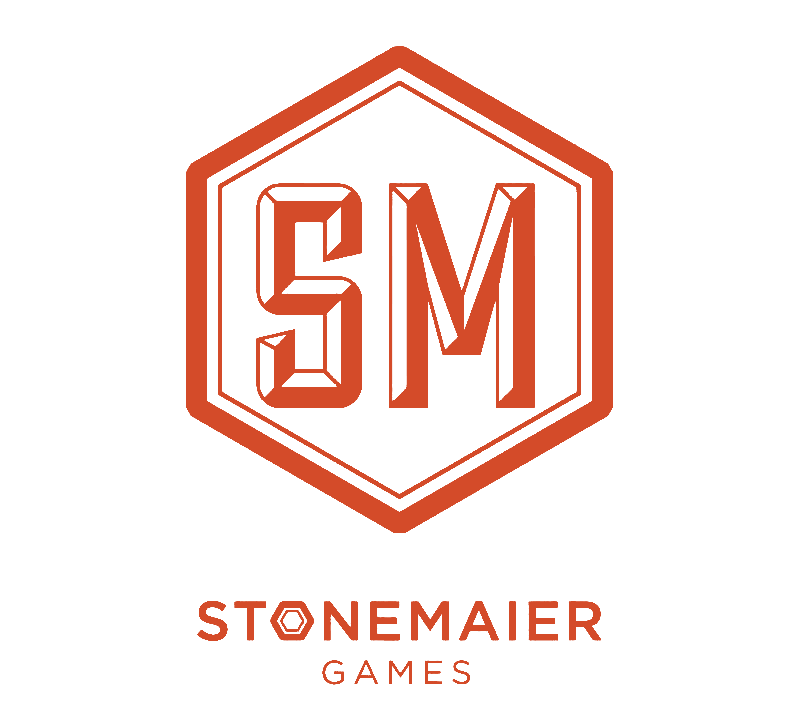 ---
---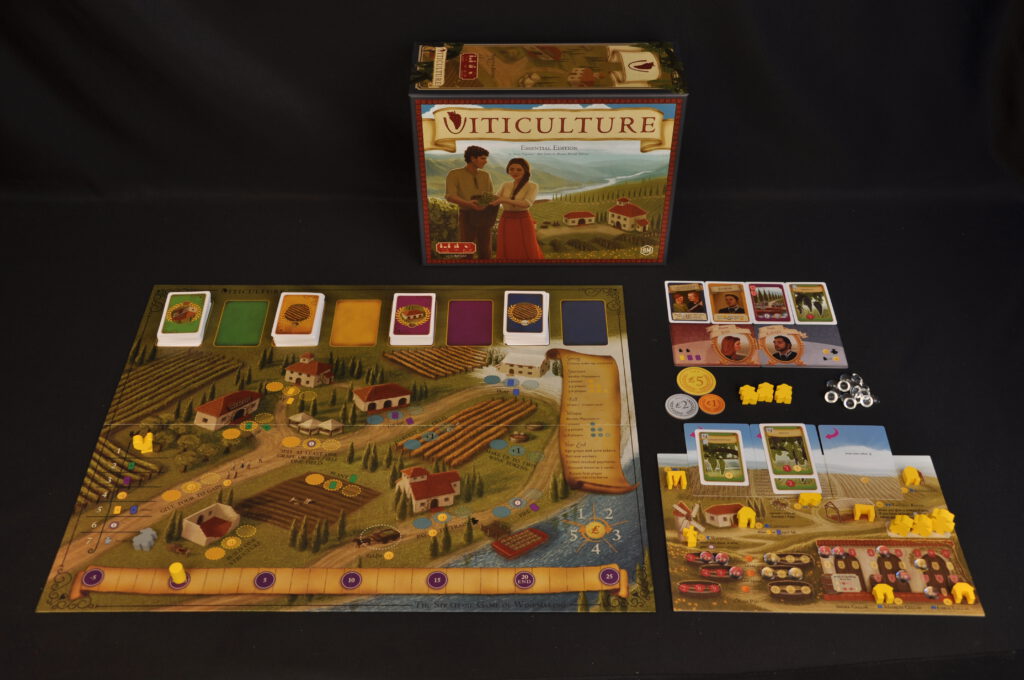 ---
Game Overview
In Viticulture you will manage your own vineyard. You will plant, harvest, grind and wine grapes. When you have completed your order, you ship your order and you score points. There are also visitors to your vineyard that you can show around and that bring nice bonuses.
Viticulture is played over several years, and each year consists of four seasons that you go through. In the spring you start by determining your bonus for that year, such as an extra grape plant, order or visitor. The better the bonus, the higher the number it is associated with. The order of turns during the rest of the year is determined from lowest to highest; so the better the bonus, the later your turn in the other seasons.
In the summer you can give a tour (for money), receive visitors (with bonuses), plant grapes or build buildings. Each player has a number of workers that you can use throughout the year, you can choose whether you want to use them in the summer or in the winter. They can only work 1 season per year.
In the fall, visitors come by, then you draw a card for a summer or winter visitor. In winter you can harvest grapes, make wine or ship orders.
After the winter you go to the next year and it starts again with spring.
With different visitors and orders you score victory points, and the player with the most points wins the game. The game ends at the end of a year when a player scores 20 points.
---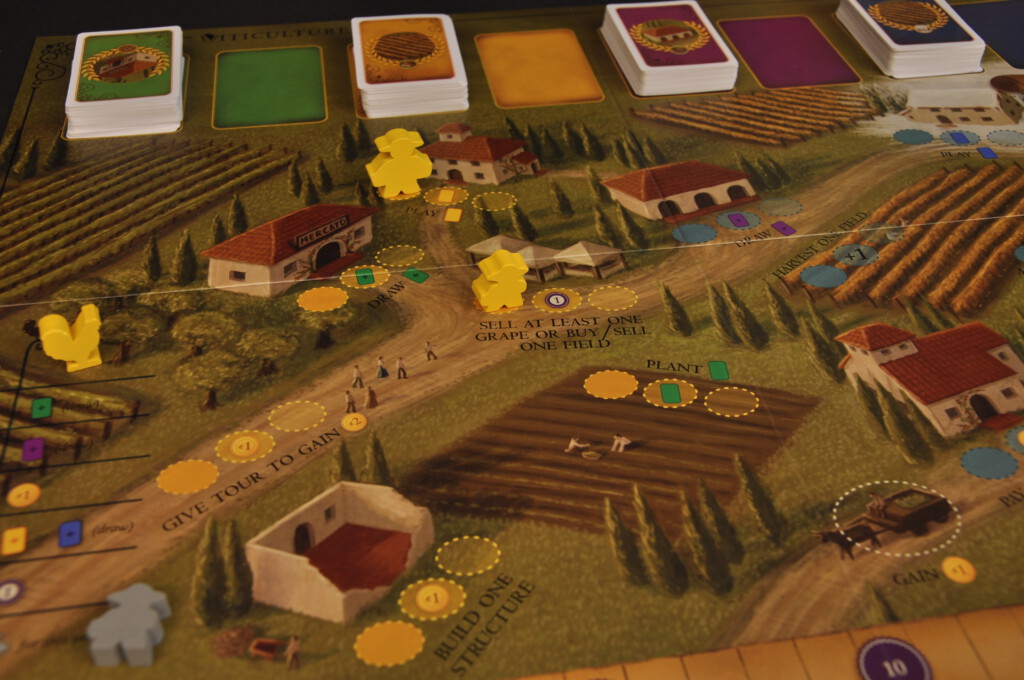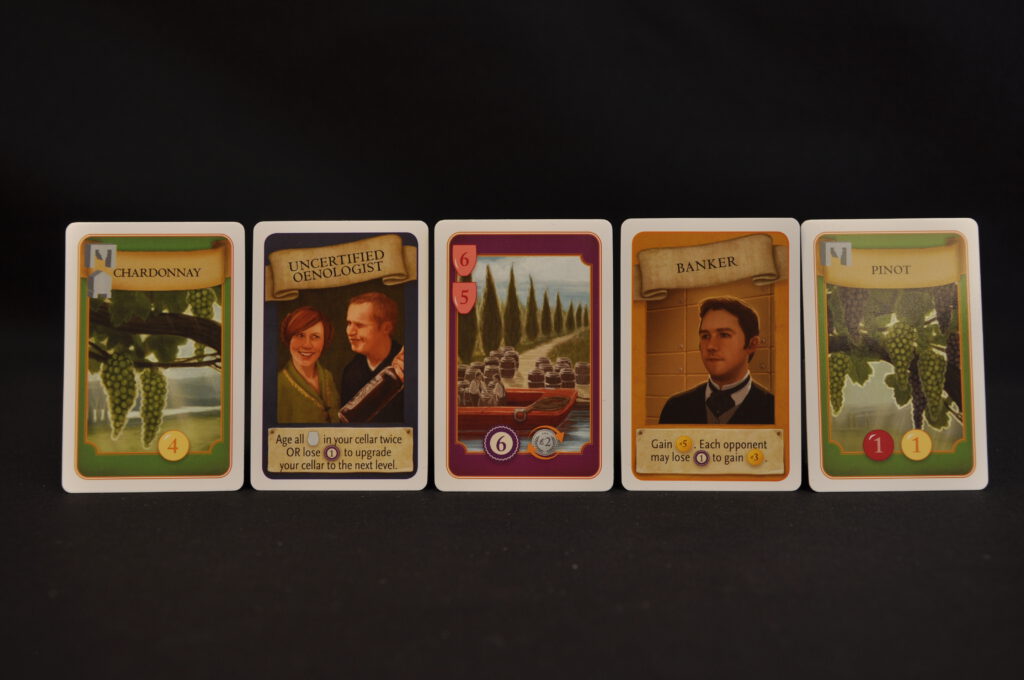 ---
Review
Viticulture is a beautiful game, one of the highlights in our collection. The quality of the game is very high, the components are beautifully designed and the design fits perfectly with the theme.
The game has a worker placement mechanism, which is very well executed. Each player starts out with limited resources, but by making smart choices you slowly build up your vineyard and you get more and more opportunities to make wine and fulfil orders.
However, you have to make many choices to build your vineyard and the game offers a lot of depth and variety and requires strategic choices.
The worker placement mechanism is very well executed and the game is very well balanced. You can apply different strategies, each of which has a different effect. We think this is a really nice and well balanced game.
---