---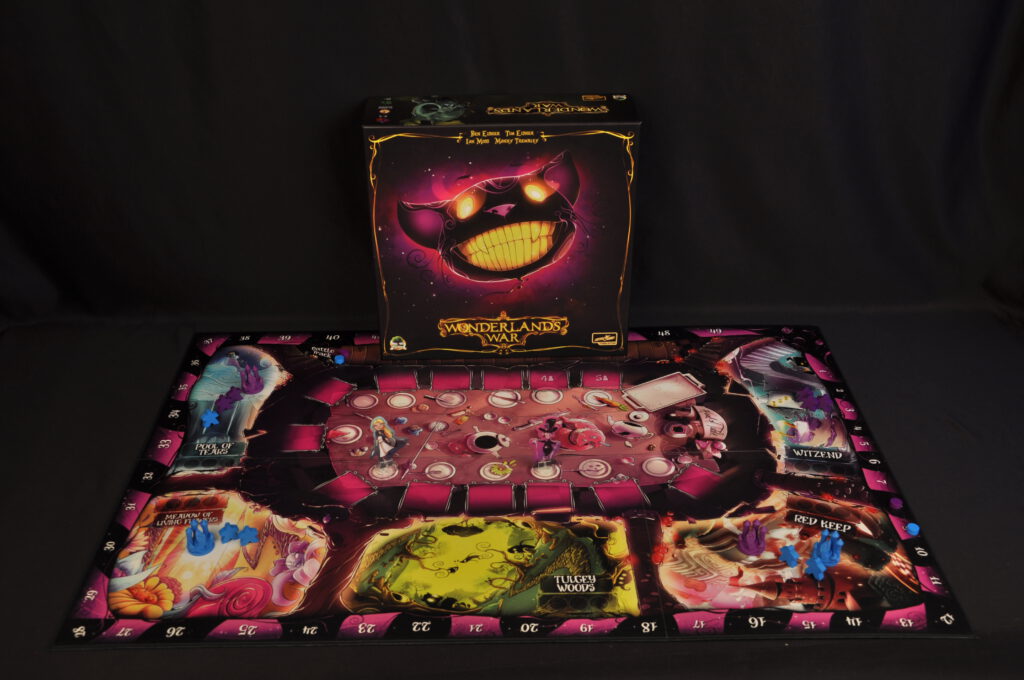 ---
Gameplay
In Wonderland's War you take on the role of Alice, Mad Hatter, Queen of Hearts or Jabberwock and during a bizarre tea party you collect as many troops as possible, build castles, strengthen your leader and recruit Wonderlandians to fight with you. Upgrades that you desperately need, because as soon as the party is over you will enter the war phase.
A phase in which the different armies of the leaders will fight against each other and where you can earn points. After the battle has been fought in each area, calm returns and the leaders again drink tea to strengthen themselves and their troops. Then the war starts again.
After fighting three times, the game is over and the points are counted. During the game you can collect 'Quests' that give you points during or after battles. After all points have been counted, the player with the most points wins.
Wonderland's War has multiple mechanisms. First you build your bag with different chips (similar to Kwakzalvers van Kakelenburg) and you start drafting (taking chips out of the bag) with a push-your-luck element. These chips determine your power in an attack, and thus whether or not you win.
---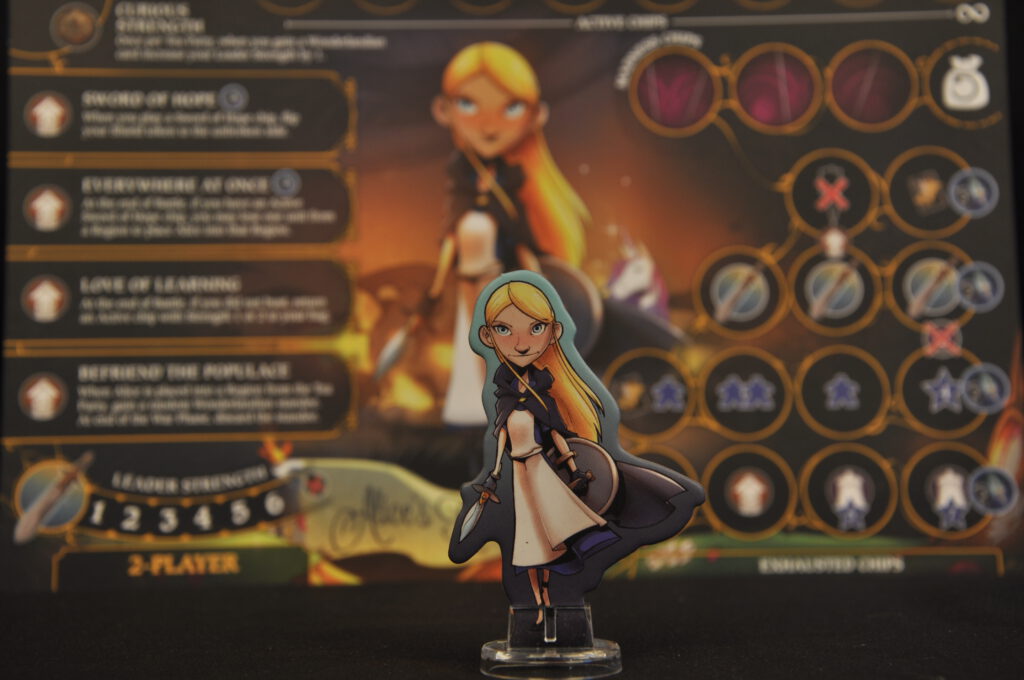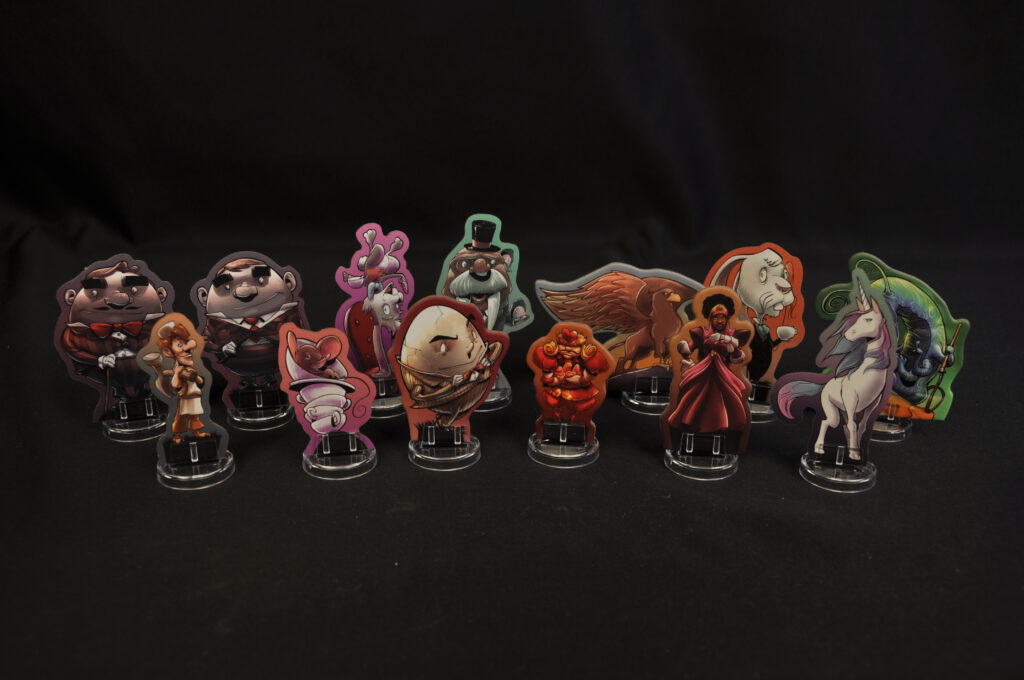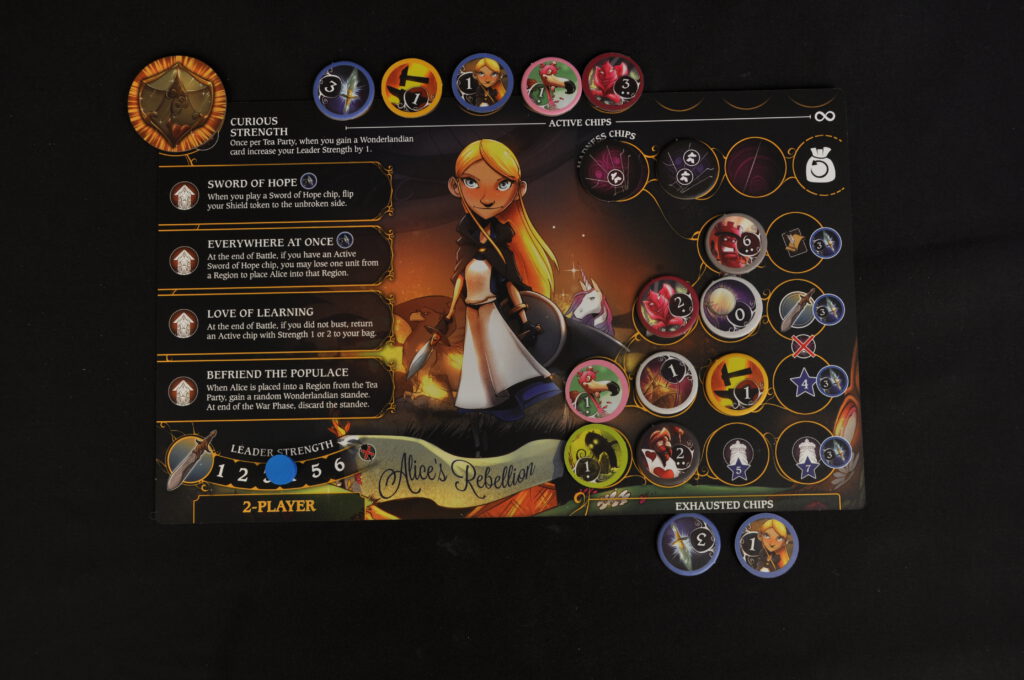 ---
Review
Wonderland War is the first to appeal to us because of the distinctive, original theme of Alice in Wonderland. The box cover is truly beautiful as is the quality of the artwork and components. Unfortunately we don't have the deluxe edition, which also includes great miniatures and a handy insert, but the retail version is certainly also available.

The game plays very smoothly and fun. Because you play over three rounds, your bag gets a little better and the battles become more difficult to win against each other. The variation between the tea party and the war phase is huge and makes the game very diverse and fun.

We think Wonderland's War is a balanced game where you have enough difficult choices to make in the tea drinking phase to make your leader stronger, move and/or strengthen your armies and possibly build castles. Every leader has his own characteristics, which means that you make different choices every time. The war phase plays quickly and smoothly. We find the puck-your-luck mechanism very strong and fun. You draw chips until you want to stop. Everyone decides for himself when he stops, whoever is furthest on the battle track wins the battle. But.. the drawn chips don't go back in the bag, but remain on your board during subsequent battles until you can put them back in your bag again. This means that in the next battle you have fewer chips to draw and therefore it is more difficult to win the battle.

Because you play over three rounds, your bag gets better and better. Three rounds is exactly enough for us. It doesn't have to take longer because then there will be a lot of repetition, but fewer rounds is not nice because you are really strengthening your bag and your leader. This comes into its own in the third and final round.

In short; a very fun and original game. Nice theme that is strongly executed, original game mechanics and a smooth playing game. In our opinion a must!
---