---
---
GAMEPLAY
You have your own museum in Museum Pictura. You are going to fill your own museum with artworks from several ages. You need to score points by showing multiple collections in your museum.
You are going to do this by the following steps. Each round you take two new artworks from the pile and add them to your hand. There are four international museums that all have their own collections. Each turn you need to trade one of your artworks with an international museum. Next you need to execute one of the following three actions. The first is to add paintings to your museum. You can place a card from your hand into your museum, if you choose to do this, you also need to discard a card from your hand and place it face up in a discard pile next to your player board. You can do this action multiple times in the same turn, and you can also add cards from other players discard pile. The second action you can perform is to open a temporary exhibition. You score one of your collections and get a benefit that will give you an advantage during the game. The third possibility is to refill your inventory with the cards from your discard pile. You score points with your collections. Collections can he bigger the collection the more points you get. Collections can consist of a period in which the artworks were created or subjects about which the paintings are about. To form a collection, the paintings must hang together in your museum. Fortunately, you can redesign your museum as often as you want to create the optimal exhibition. The player with the most points wins the game.
---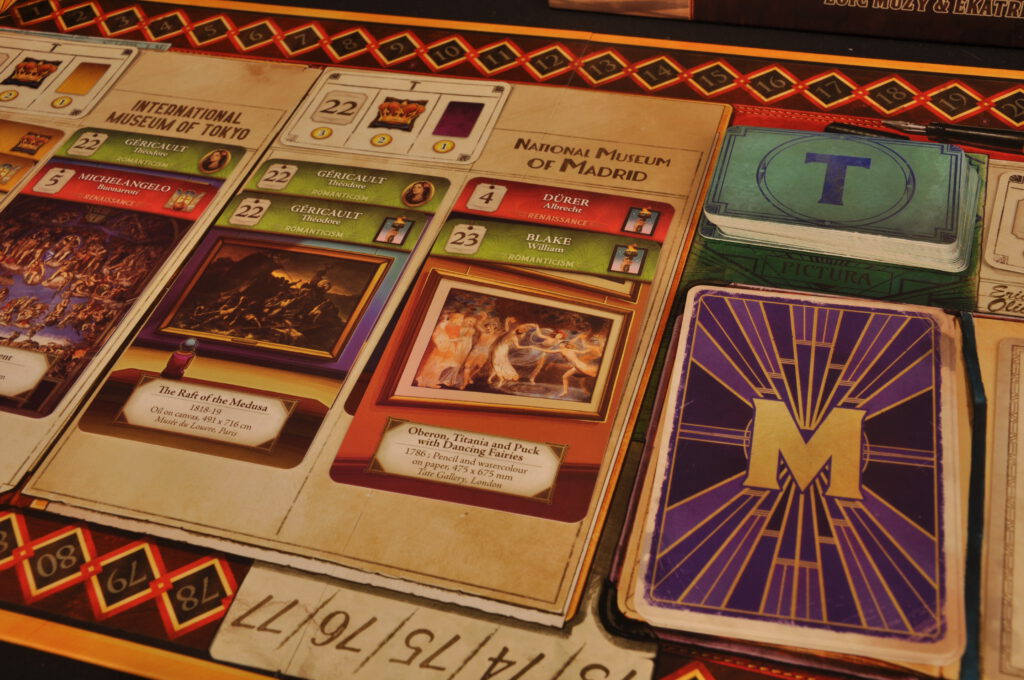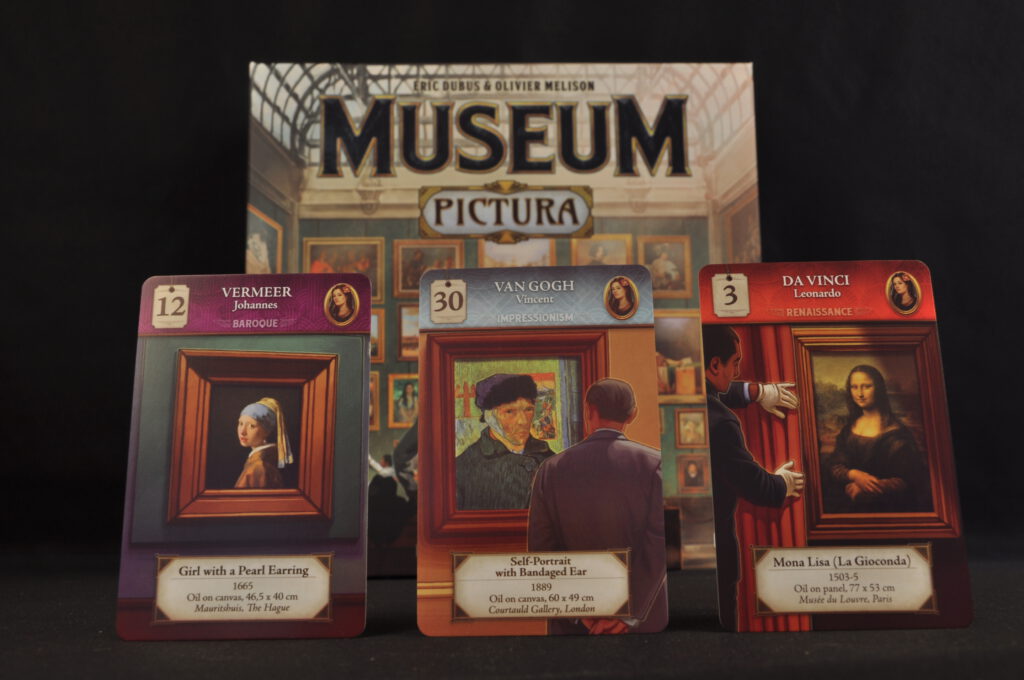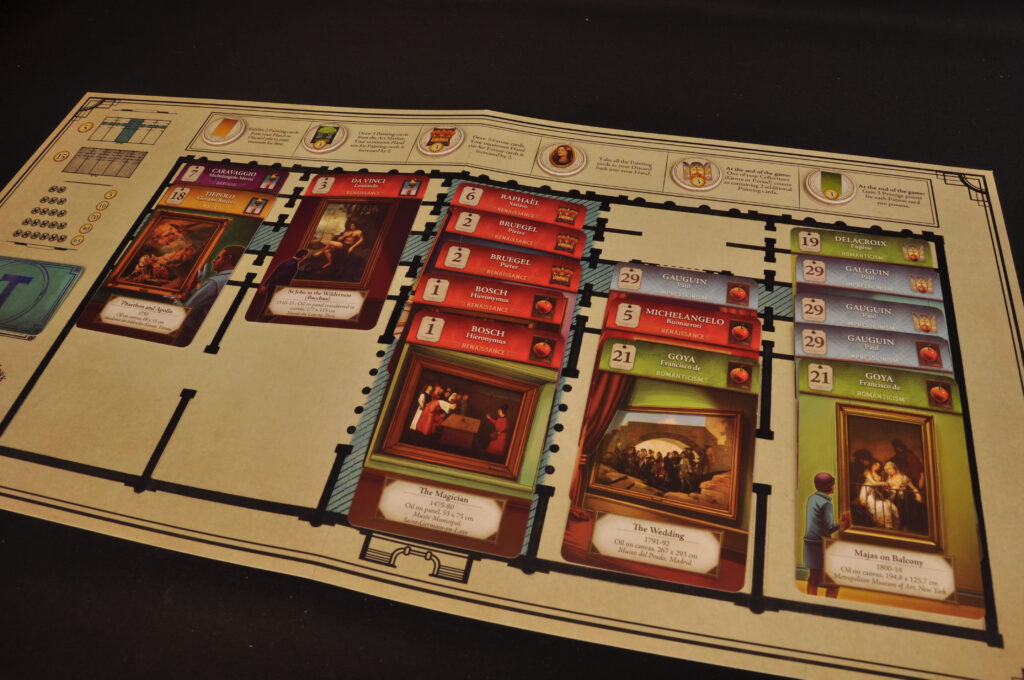 ---
Review
This game surprised us in every way.
The set collection mechanism is implemented very strongly. Each turn you get 2 more cards in your hand, and you have to trade at least 1 card with the international museums, you have enough rotation and choice in how you build your museum. However, with 2 players there is not much variation in the cards in the international museums, which makes it more difficult to trade later in the game. This can be solved by exchanging a card at the international museums with the pot at the end of each round.
The scoring mechanism is very clear and well implemented. There are many different ways to collect points and we find ourselves choosing a different strategy each time to build the collection, with varying degrees of success. By strategically collecting and placing your paintings and keeping control over your discard pile you can also score a lot of points with the temporary exhibitions during the game.
The game is very tactical and strategic, it requires a lot of forward thinking and tactics and therefore an expert game in our opinion. This is by far the best set collection game in our collection. The game plays very balanced and smooth, the choices are clear and well-arranged, but certainly not easy. From the first turn you feel that you have to think carefully about which paintings you are going to add to your hand and/or collection because each card can give you both minuses and pluses.
The theme is very strongly implemented and elaborated. The works of art and the facts about the painter or the painting are correct. The layout of the collections is very truthful and that gives the game an extra dimension for us.
We are super excited about this game and in our view it really deserves more attention than it gets so far. A topper this one!
Are you looking for a strategic game, do you like set collection, or do you want to play a new, more expert game? Then you really recommend trying this one!
---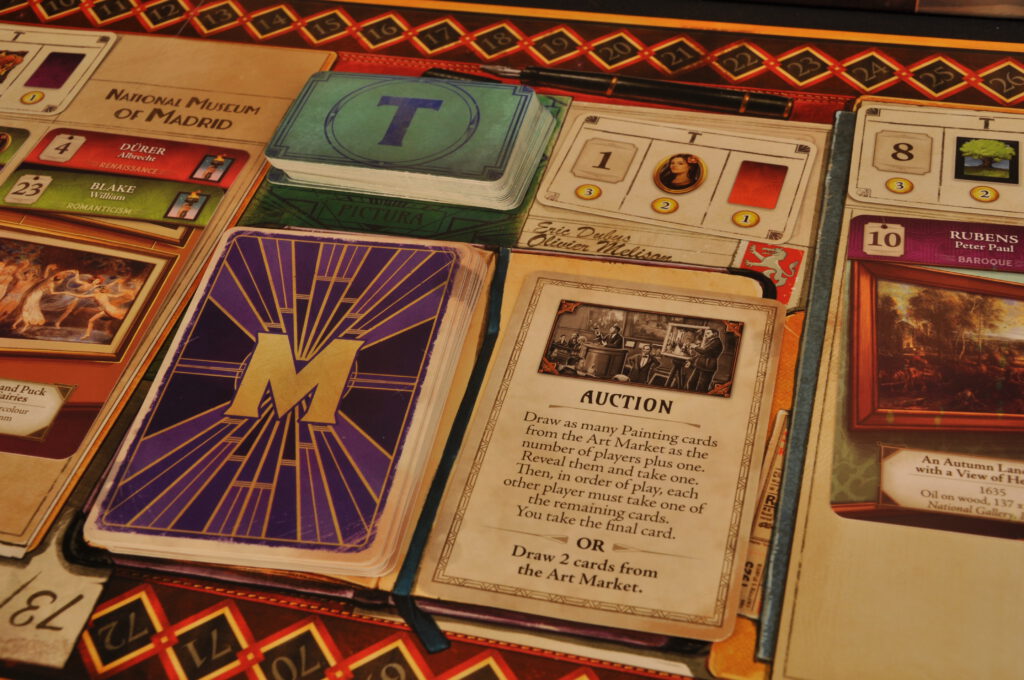 ---
End Score
✔️ Strong mechanism
✔️ Smooth and balanced gameplay
✔️ Very deep game, with lot's of strategic choices
This game has been made available to us by the publisher HolyGrail Games for review purposes. Our opinion is not influenced by this and remains our own.