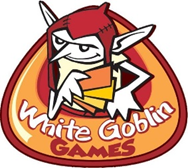 ---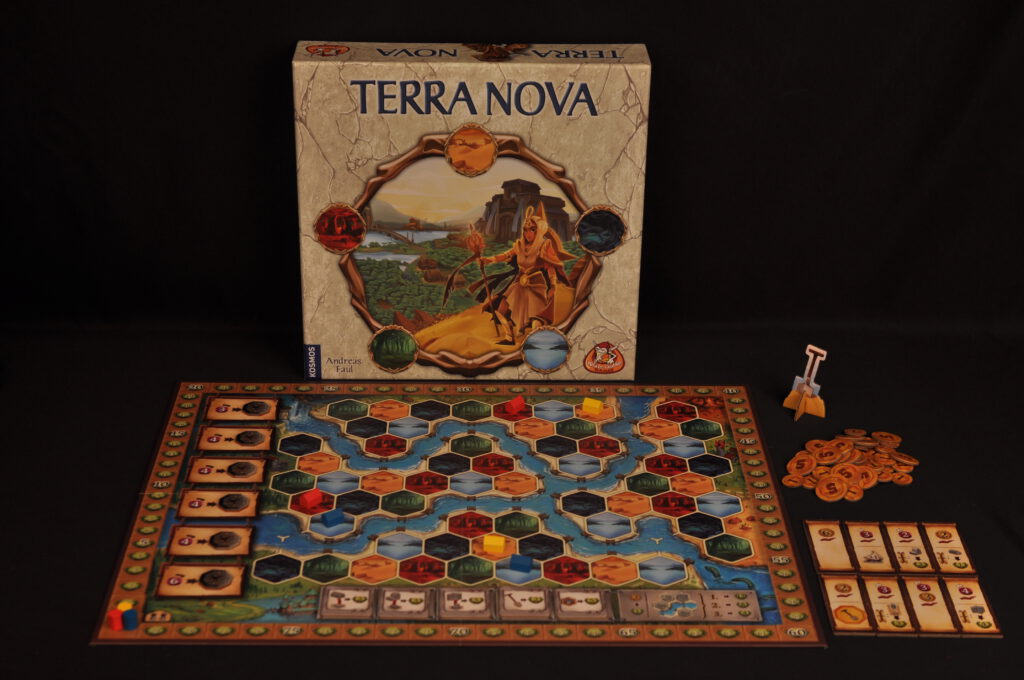 ---
Goal
In Terra Nova you compete against your fellow players as you strive for dominance in your country. Your mission is simple: make clever use of your faction's unique abilities, expand your territory on the map, and collect the most points by the end of the game.
---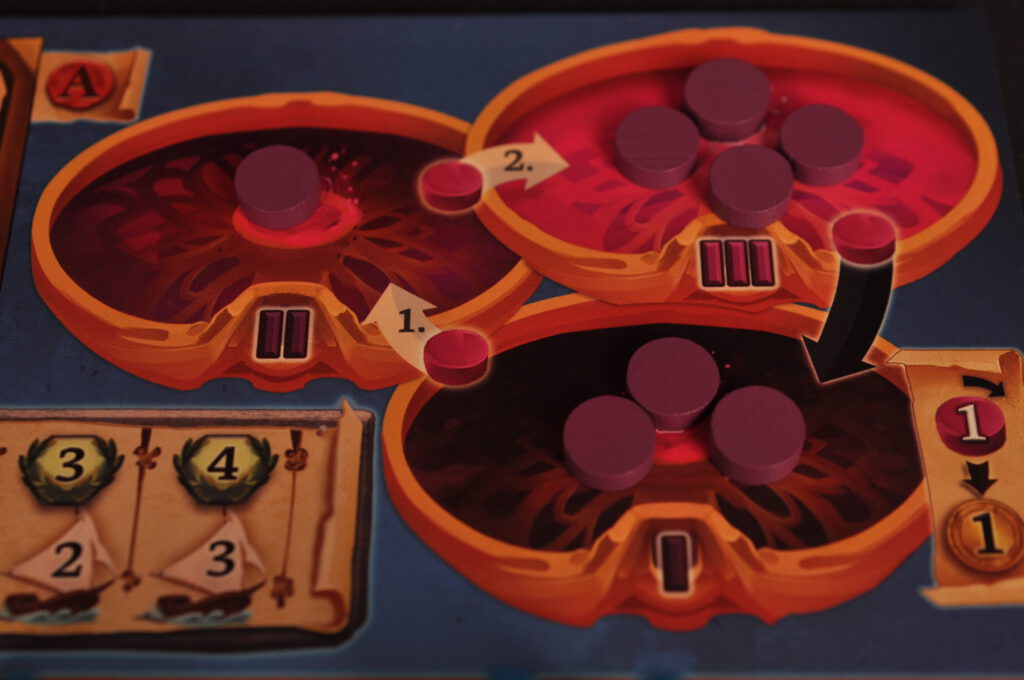 ---
Game overview
In Terra Nova you play a faction with the aim of maximizing your influence in the city. Each faction has its own unique skills that you will use throughout the game.
The game consists of five rounds, each divided into three phases: Income, Actions and Round End.
In the income phase, players earn money and power based on buildings and the active bonus tiles for that round. During the game you collect powers and build them up until they are strong enough to spend.
In the Actions phase, players take turns performing various actions, including building or upgrading buildings and improving skills. The goal is to expand your influence on the map by constructing buildings and bridges and possibly establishing cities. Cities are founded automatically when certain conditions are met. Cities earn bonus points. There are various actions you can perform, such as making areas livable, upgrading buildings, expanding sails, building bridges, strength actions, special actions and you can also choose to leave the round and prepare for the next by choosing a new bonus tile.
Importantly, each round offers different opportunities to score points based on specified actions. The Round End marks the preparation for the next round, resetting various aspects of the game board for the next phase. After completing the fifth round, it's time to add up the scores. The final score takes into account your accumulated wealth, and players earn additional points based on the number of connected buildings in their largest territory.
---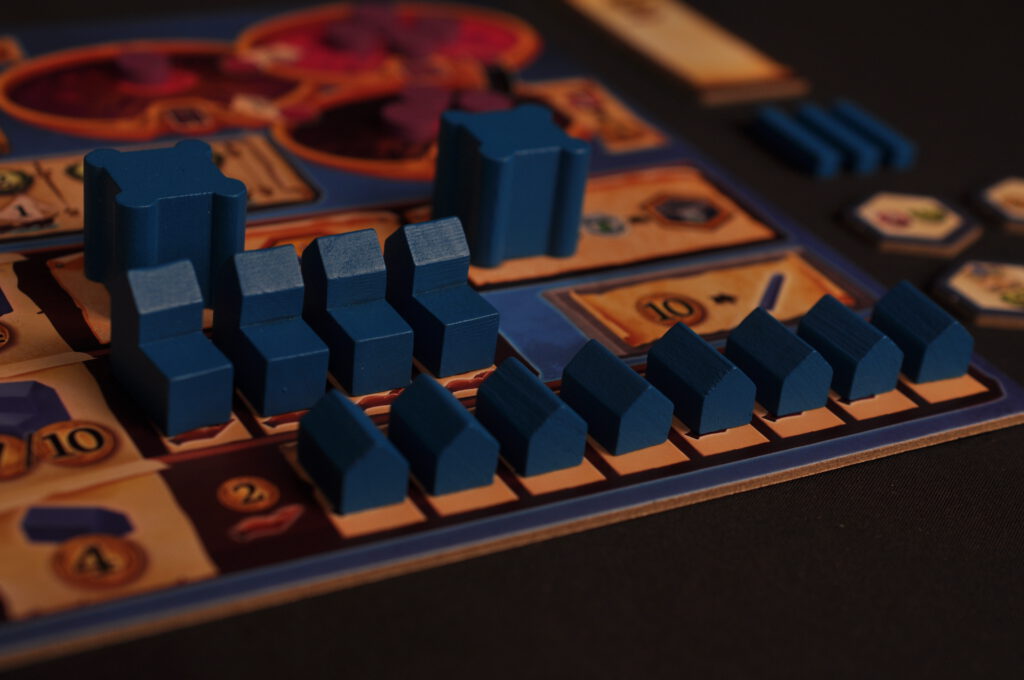 ---
Review
Terra Nova is a more accessible variant of the well-known expert game Terra Mystica, and this is done well. The game mechanics are simpler but the sense of depth is well preserved. The rules are clear and the division of the phases makes the gameplay clear. This makes the game quick to learn.
The rules are clear and well written, the components and artwork also look good.
The game contains various factions, each with their own unique playing options. Although we are not always fans of asymmetrical games, it really comes into its own here. The factions are equal and it therefore plays very balanced.
The game is suitable for both novice expert players and family plus players. The gameplay and rules are clear and accessible, but the game can offer surprising depth and strategic choices that can appeal to both target groups.
---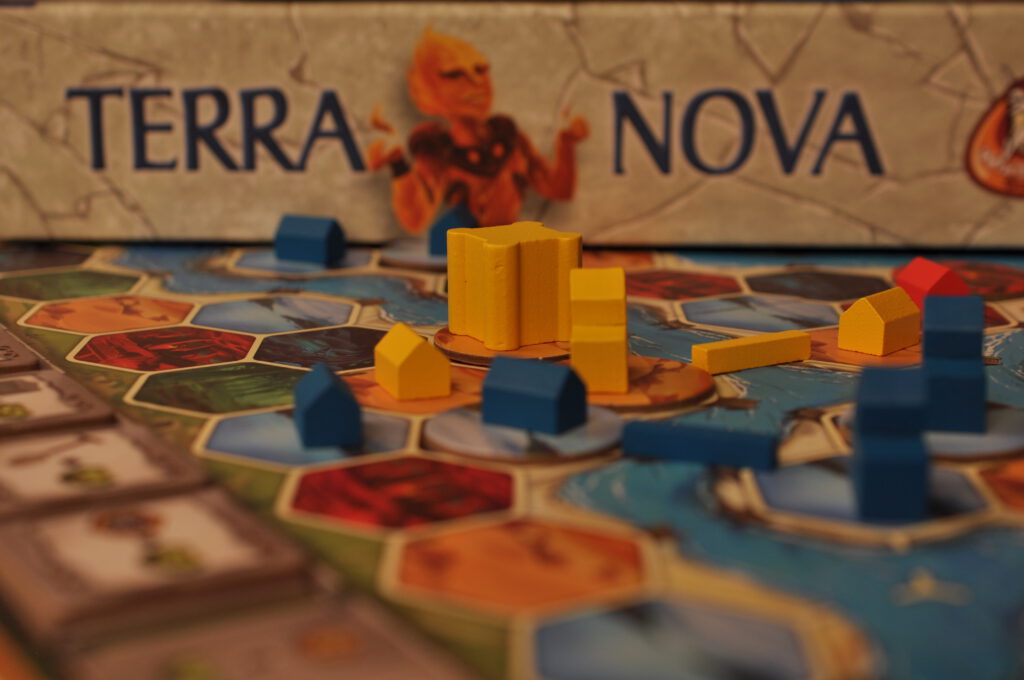 ---
For whom?
In our opinion, a good starting point in the Terra Mystica family, and a very suitable family game for slightly more experienced players.